Game duration across the universities
By Tanja Fens
Following same concept in different settings results in a diversity of game duration across the universities. The graphic is an illustration of how many days the students in each university are playing one game.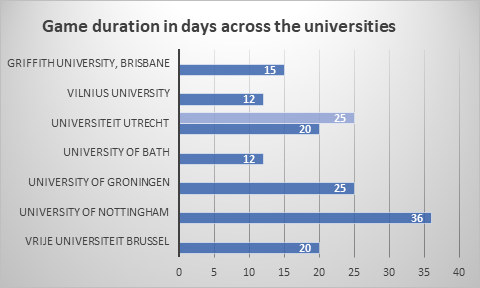 The longest game is played at the University of Nottingam, while the fastest players are at the University of Bath and Vilnius University. Yet, the question that remains is what influenced these differences?
Obviously, different educational systems and national requirements are the first factors to emphasize. Moreover, in some universities the game is played as a standalone course and in another as an integrated tool of an existing course or training program.
Nevertheless, the pharmacy game serves its goal and provides a fun and effective training for the students at each of these universities.